"HIPAA", perhaps the biggest buzz word to hit the HealthCare Industry ever. Questions are many! Answers are few!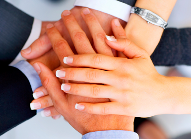 Are you testing electronic transmissions? Are your Transaction sets compliant? Are you preparing for the many deadlines ahead? Are you not sure what to do? We are here to help you.
Our clients have expressed a concern that many providers are not finding viable solutions to the HIPAA Standards for Electronic Transactions regulations.
We at eEDI are here to offer you a simple, cost effective solution. If you have Internet access and can extract claims information from your business application we can offer you the following.
Negotiated one time setup charge based on the number of trading partners and the number of Transaction sets required.

Direct connect to your trading partner (if applicable, your trading partner must have the capability of direct connect, most do).

Ability to send and receive ANSI X12 HIPAA Compliant Transactions with eEDI acting as your Clearinghouse.

Secure communications utilizing File Transfer Protocol (FTP), Data Encryption, and User ID and Password accounts. If you have any interest in the above or have any questions please do not hesitate to contact us.